American Curriculum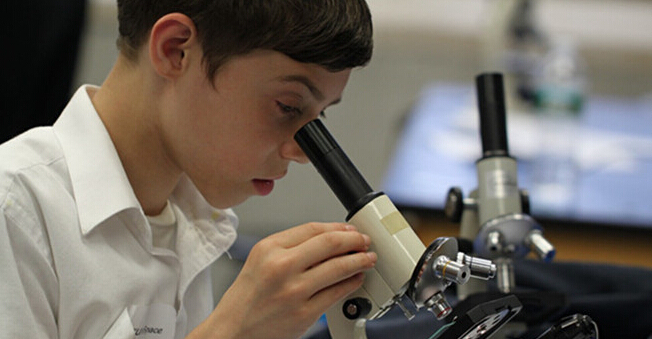 Introduction
The international American program offers students a unique, internationalized educational experience. We use an integrated, holistic approach that combines both core academic skills in both Chinese and US studies along with essential English-speaking proficiency development. We also believe in an educational approach that equips students not only with academic competency but also with the fundamental professional and personal skills to succeed in the globalized world. We use American curricula that includes American academic English, Advanced Placement (AP) courses, as well as summer study courses in a United States high school. Furthermore, our students take part in various extracurricular activities, such as music, dance, and art.
Our main goals:
• Provide standardized, rigorous instruction that equips our students for future academic and professional success.
• Foster an enriching climate where internalized knowledge, attitudes, and experience are an essential part of our school culture.
• Provide individualized guidance and instruction that serves the needs of all students from all levels and abilities.
Our mission is to help our students emerge as globalized, creative, and intellectual citizens who possess the essential skills for success in any professional and cultural context.
21st Century Learning Framework
We align our curriculum standards with the Partnership for 21st Century Skills' comprehensive framework. This framework encompasses the essential knowledge and skills students need to succeed in academics, the globalized workforce, and life. Essential skills include critical thinking, problem solving, communication, and collaboration. The framework is outlined in the diagram below.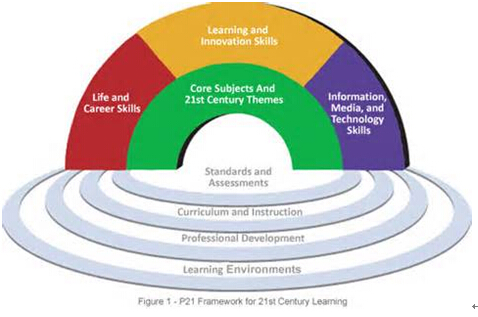 We use the Common Core Standards as a tool to provide a rigorous, comprehensive education for all students. Core subjects include English, reading or language arts, world languages, arts, mathematics, economics, science, geography, history, government and civics. However, to ensure that every student acquires a holistic educational approach, the 21st Century Learning Framework integrates the following essential interdisciplinary themes into the academic core subjects.
• Global Awareness
• Financial, Economic, Business and Entrepreneurial Literacy
• Civic Literacy
• Health Literacy
• Environmental Literacy
Learning and Innovation Skills
Learning and innovation skills are what separate students who are prepared for an increasingly complex life and work environments in today's world from those who are not. They include:
• Creativity and Innovation
• Critical Thinking and Problem Solving
• Communication and Collaboration
Information, Media and Technology Skills
Today, we live in a technology and media-driven environment, marked by access to an abundance of information, rapid changes in technology tools and the ability to collaborate and make individual contributions on an unprecedented scale. Effective citizens and workers must be able to exhibit a range of functional and critical thinking skills, such as:
• Information Literacy
• Media Literacy
• ICT (Information, Communications and Technology) Literacy
Life and Career Skills
Today's life and work environments require far more than thinking skills and content knowledge. The ability to navigate complex life and work environments in the globally competitive information age requires students to pay rigorous attention to developing adequate life and career skills, such as:
• Flexibility and Adaptability
• Initiative and Self-Direction
• Social and Cross-Cultural Skills
• Productivity and Accountability
• Leadership and Responsibility
ELL Program
We use the English Development Program (EDP). The aim of this program is to ensure that "every Chinese student has the opportunity to become a fluent user of English with all the educational, work and social benefits that this brings." The EDP program provides students with an individualized learning approach in a small-group environment. Students are tested and then grouped according to their language ability. Classes are no larger than 15 students. These small-group classes allow our teachers to give each student individualized attention while also establishing a discussion-based climate that allows students to use English with their peers.
The EDP also prepares students to take the TOEFL examination, which is necessary for university study in the United States. In the first year, we gradually help students develop their general English abilities while also including some academic English lessons. As we transition into the second year, students will engage in academic language development that targets TOEFL content skills, as well as prepares them for AP courses and American classroom study. Our goal is for students' to obtain their desired TOEFL result before beginning the third year of the program.
By the time students enter their third year, they will enroll in more advanced English coursework, such as literature, history, and academic writing. These courses are essential components of American high school graduation requirements. Our students have the advantage of learning these higher-order academic English skills within the supportive, English language learning environment that will provide an important bridge into American university study.
Advanced Placement Program (AP)
AP is an American curriculum program that provides high school students with university-level course material that ensures students are ready for university-level study in the United States. AP offers one-year courses; however, we plan to offer introductory subject courses to students prior to participating in the AP program to ensure that they are well-prepared for advanced study. Therefore, all students enrolled in AP courses must pass an AP entrance examination to ensure they are qualified to take these rigorous courses. At the end of the course in May, students take part in AP examinations. Examinations can be used to impress university admissions officers because high examination scores prove that students have the ability to perform well at the university-level. Furthermore, students may earn college credit at some universities if they receive high marks.
Our program offers AP courses in calculus, physics, chemistry, and the humanities. Unlike other programs, we ensure that our students obtain the English proficiency level needed for AP study, and we provided academic subject-area English lessons to help students build the language skills needed to learn AP-level materials and to be successful on AP examinations. For any remedial English students, we will provide pre-AP transitional courses in the AP subjects in order to further develop their English and provide them with the background knowledge for AP study. Our goal is to help as many students as possible take part in the AP examinations.
Joint Diploma Program: Escondido Charter High School American Diploma Cooperation Program
Students in our program have a unique advantage to earn a joint diploma with Escondido Charter High School located in California, United States. Students will satisfy specific course requirements for both schools, providing them with a combination of core Chinese coursework and core American high school coursework. One of the program's highlights is that students participate in summer mini-courses in Escondido Charter High School to study subjects, such as history and liberal arts. This experience exposes students to the American classroom, curricula, and learning environment. Therefore, our students gain authentic American study experience both within the Chinese school and the American school context.